Products and Services
North Queensland's ONLY Automatic truckwash facility (capable of handling B-Doubles) is now in operation. The state-of-the-art automatic Wash-bay equipment (from Germany) which is fitted with rotary brushes, high pressure turbo-jets and underbody wash. This machine can handle B-Doubles upto 25 m long and can thoroughly clean a set of B-Double tautliners / vans in as little as 20 minutes. The sequence of washes includes a pre-soak, high-pressure soap followed by a profile brush-clean and high-pressure fresh-water rinse and wax.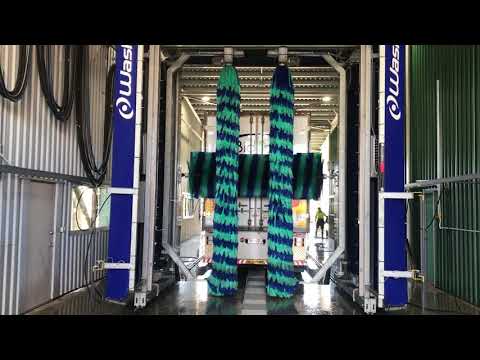 This system is manually controlled by our qualified operators and hours of operation are 7.30 to 5.00 on Weekdays and 7.30 – 1.00 on Saturday.
Hours will be extended as demand for the service increases.
Full Deluxe Truck Wash
Any auto wash requires some hand preparation to achieve a near-perfect clean. Our Deluxe Wash follows a set sequence of manual pre-washing by our cleaning team, followed by a set sequence by the machine. All Prime movers are fully hand-washed .
Express Wash
Our Express Wash option is much simpler and quicker than the  Full Deluxe wash option. It consists of a full pre soak application for the cabin and trailer combination by our cleaning team followed by an automated full high pressure, touch free 'slow pass' cabin and trailer wash. The pre-soak program that is used as a part of the Express wash has a significant 'dwell time' programmed in that ensures a good penetration of product assisting in the high pressure wash cycle.
Underbody wash
Our Automatic Truck washing facility is also equipped with high-pressure jets should your vehicle require an under-body wash.
Watch a video of the Underbody wash system in operation
---
Wash and Detail services for Trucks
Trailers
Machinery
Buses
Caravans
Cars and Light Vehicles
Fleets
Weed and Seed
We provide a high pressure water wash and chemical clean on vehicles that require a "Weed and Seed" Declaration which is sometimes required for work purposes on sensitive Agricultural properties
Food Truck Cleaning
If your Food truck requires cleaning, we can do an internal clean & broom and sanitize using approved products
We also do chemical cleaning, Metal polishing and offer a full Detail service.
Self-Serve Wash Bays
Our self-serve wash bays are now OPEN 24/7!
Wash your car, caravan or truck any time of night or day in our two wash bays!
Each bay has 2 x Payment terminals accepting coin, notes or Credit / Debit Cards. (Note: No change given. Accepts $5, $10 and $20 notes).
Pre-paid tokens are also available from the Office during working hours.
Bays can accommodate vehicles up to 5m in height and up to 25m long!
Wash Options include: Pre-soak, Engine and Tyre Cleaner, High Pressure Soap, Wax, and High Pressure Rinse.  Use the "Pre-soak" option to breakdown any insects and bird droppings. The high-pressure soap removes grit and then scrub with the Bubble brush. Next, apply the wax -Clear coat to protect your paint-work. Rinse off with the fresh-water High -pressure Rinse option to finish.
Use of all equipment in the Self-Serve Wash Bays is at your own risk.  
---
Mobil Diesel
Diesel is now available 24/7 on Hi-flow pumps in our Fuel Bay.  Ad Blue is also available on pump!  Drive-thru easy access for B-Doubles.
Use your Pacific Petroleum fuel card or pay by credit/debit card at the payment terminal which also accepts Motorpass cards. The Fuel Facility is Open to the Public 24/7!!  If you'd like to open a Card Fuel account with Pacific Petroleum, download an Account Application form here or call us on 07 – 4774 6634 for more information
TYRE PRESSURE LOW?
PUMP UP WITH THE TWO TYRE-INFLATORS IN THE FUEL BAY!!
---
Fleet Operators
Using a little "Fob" like this can help you keep track of your truck wash expenses. We can program whatever amount you want onto the Fob which can then be used in either of our 2 x Self-service Wash bays (activates immediately).
Contact us on 07- 4774 6634 to find out more and to learn about what usage information reports we can provide for Fleet Management!
---
Customer Lounge
For the convenience of our clients, our waiting area is equipped with a Driver's lounge with TV, Tea / coffeemaking facilities,  Toilets and Shower facilities.
---
Lubricant Distribution
Big Boys Superwash are North Queensland Distributors for
Shell
Mobil
Conoco/Phillips lubricants
 Big Boys Superwash now has product in stock in sizes upto 205 ltr drums. Call 4774 6634 if you have a requirement.
Lubrication Equipment
We carry a range of lubrication equipment in stock ranging for portable Grease guns to 205 ltr drum pumps as well as accessories.
---
Batteries
We stock premium quality Truck batteries from Delkor
---
Mechanical / Auto-Electrical / Air-conditioning Services
SOS Diesel Services
Townsville's premier Heavy vehicle mechanical workshop is now open for business at our premises.